Hello!..
So your most likely here 'cause I sent you a PM, at least that is the intended reason for this post, but if your here on your own volition then feel free to send me a PM if this project interests you and you'd like to help out! :)
I'll start off by saying, these are not paid positions, I'm a student and this is a student project! I'm opening up this project to Newgrounds because I know there's a hell of a lot of talented folk on here that could be interested in the project.
What is Gingerbread?
Gingerbread, is the project name of an 11 minute pilot cartoon about a karate master gingerbread man and his creepy acoplises Arthur and sister (pictured in the banner above) and their adventures in a mysterious victorian era town, hidden in the vast English countryside. The town is teaming with monsters new and old, from a Frankenstein-esque evil baker to misunderstood marshmellowy aliens living in the forest!
Who's working on it so far?
As mentioned, this is a university project (in the practical sense) so I am working on it with fellow classmates, 2-3 animators and a writer at this stage. Though there will be enebitabley more animators once we hit production after Christmas (15.)
What's been done so far?
By the time of writing we've written the story, preparing to addapt for script, and we have mock designs for the main characters, as well as rough walk cycles and other tidbits. Though by the time of reading we could be much further into the production stage, this post will be up a while!
What's the timescale?
I've given ourselves a large ammount of time to complete this animation, though understandable by the scale. Production will begin around mid January. Due to this being a part time project (though currently I'm treating it in higher regard than any job/university work) we have until May of 2017 to finish the animation. So a long time! I will revisit this once I get a better grasp of the workload.
What roles are there?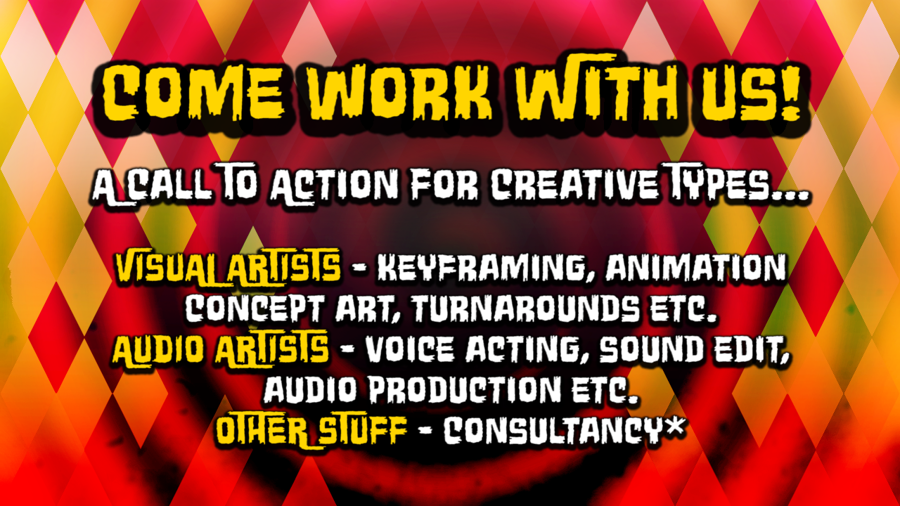 Come work with us! I've probably scouted you for one of the above roles, if not get in touch and I'll better describe the sort of work I'd like you to work on and the ammount/timescale.
Why work with us?
Well I'm a big thinker, and I'm thinking I want to submit this thing we're creating to some animation networks such as Turner's Cartoon Network and Fred Seibert's Frederator, and I'd like to develop a strong studio before that through this project!
There's also a possibility of Kickstarting/Crowdfunding this venture, which I'm actually more attracted to in order to keep more control over the content and studio posibilities.
Thanks! - follow if you like, I'll be updating to my blog on NG pretty often with video tests, odd jobs and what not.
Adam Smith